Wired Canvas
15th December 2015 by Rob Foddering
Did you ever see the Oliver Stone biopic of The Doors? 
There's a scene where the band drives out to the desert to take peyote and "find themselves". They then come back to sugar-pop infested Los Angeles, and write a bunch of (Oedipus themed) killer tunes. The rest is history.
For the last year, we've embarked on that same journey. There were hardly any hallucinogens, father killing and bongos, but still, it's been a journey of self-discovery*... 
*A side note: There was, however, an over-ripe pear incident on the millennium bridge. It was probably slightly hallucinogenic, and at a stretch could be classed as dessert (sic).
Preceding every rite of passage, there's a time when you stop and consider why you're doing what you're doing. Did we want to continue along a well-travelled path and make the design equivalent of pop songs? Or should we risk it all and focus on designing things of real depth for people who needed them whilst using positioning that could put potential bigger clients off?
It's a fine balance; however we are what we are, and truth will out and all that.
Why?
For us, this reconsidering of who and what we are arose from two things:
As a business, we're entering into our teens, and we all know how developing a strong identity is mandatory in those years. The other thing that made us reconsider was the realisation, when working for one particular client, that the work that they had commissioned from us would be of dubious benefit to the end users. 
Design is an industry based on service, and is predominantly about relationships. Like the formative relationships of your teenage years, you can easily be pulled along by the charisma of a partner who's completely unsuitable, and if you haven't established who you are to the extent that you can stop and say, "No, this isn't right for me," you can end up in an uncomfortable place where you don't want to be.
Before we started blaming everyone else (clients are never to blame), we needed to stop, look at ourselves and make sure we knew who we were before we embarked on any new relationships.
Knowing who you are and what you do as a company has to work systemically, as my wife (who's a psychologist) would say. The whole team had to be on board. Our purpose had to be simple, clear and direct: simple enough for us to absorb it and keep it close; clear enough to know when we were working with the right people; and direct enough for us to get it tattooed somewhere prominent.
I began drafting a document that set out the purpose of the company. It was lofty and full of words, some of them disparaging about the state of the design industry. It covered our purpose, positioning, story, strengths, service, voice, tone and content. Everything that we needed to know about who we are, like when we should stop and say no, or when we should buy a bunch of flowers (without waiting for the change) and chase after that client with everything we've got.
After many drafts based on team feedback and interspersing the document with The Big Lebowski quotes (it really helped with the whole brevity thing), it condensed into the following:
Tagline 

We help good people achieve great things.

Elevator Pitch

We're a design studio in London that helps good people achieve great things. We use design to increase the impact of the amazing work that our clients do. 

Pitch

We're a London design studio that helps good people achieve great things. We use digital, print and identity design to increase the impact of the amazing work that our clients do. We believe that the best design work combines passion and integrity, so we choose to work with people who are doing remarkable, inspiring things.

Our Motto

Work for good. Do good work. Have fun.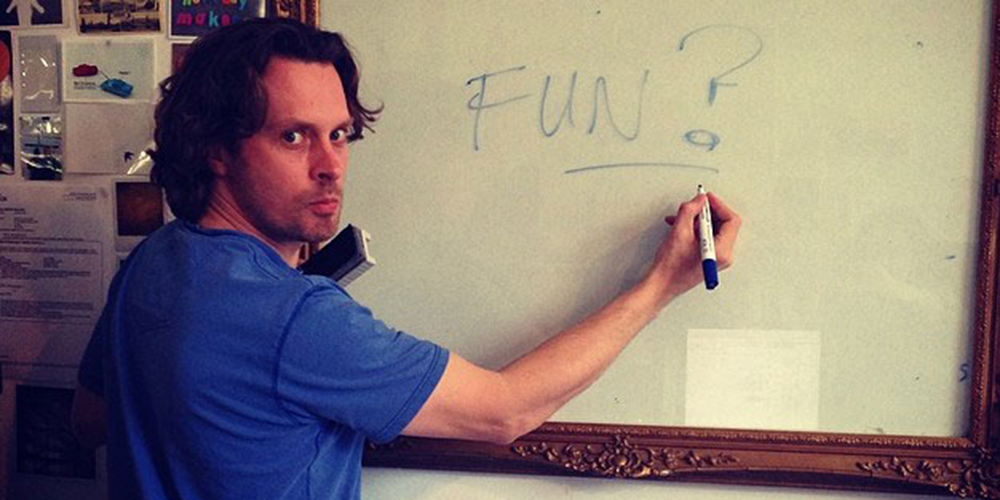 To me, those hard-fought-over words clearly represent our purpose and positioning. 
The next question was, did our existing brand represent this newly found purpose…?
Inevitably the answer was no.
So, how would this newly-energised design company represent its new purpose and position itself so that its brand reflected this new direction?
You're on the edge of your seat aren't you? Well it wasn't easy that's for sure. Find out how we did it in Part Two: Our new rebrand and redesign (and why you should always set a deadline and budget)