Wired Canvas
15th December 2015 by Alice Ralph
Some of you may have noticed that we have recently launched a new website (it's not like we've been banging on about it all over social media or anything). And since it's so close to Christmas, our annual Christmas card seemed like the perfect opportunity to announce the new site at the same time. 
Our new visual brand has intentionally focused on paper, layers, textures and folding. When we first started talking about the brand we kept coming back to the idea of layering and cutting paper, like origami, because our work is all about taking a blank sheet of paper and using creativity to transform it into something beautiful. The cut out 'triangle' was a motif that we kept returning to, and it features prominently around our site.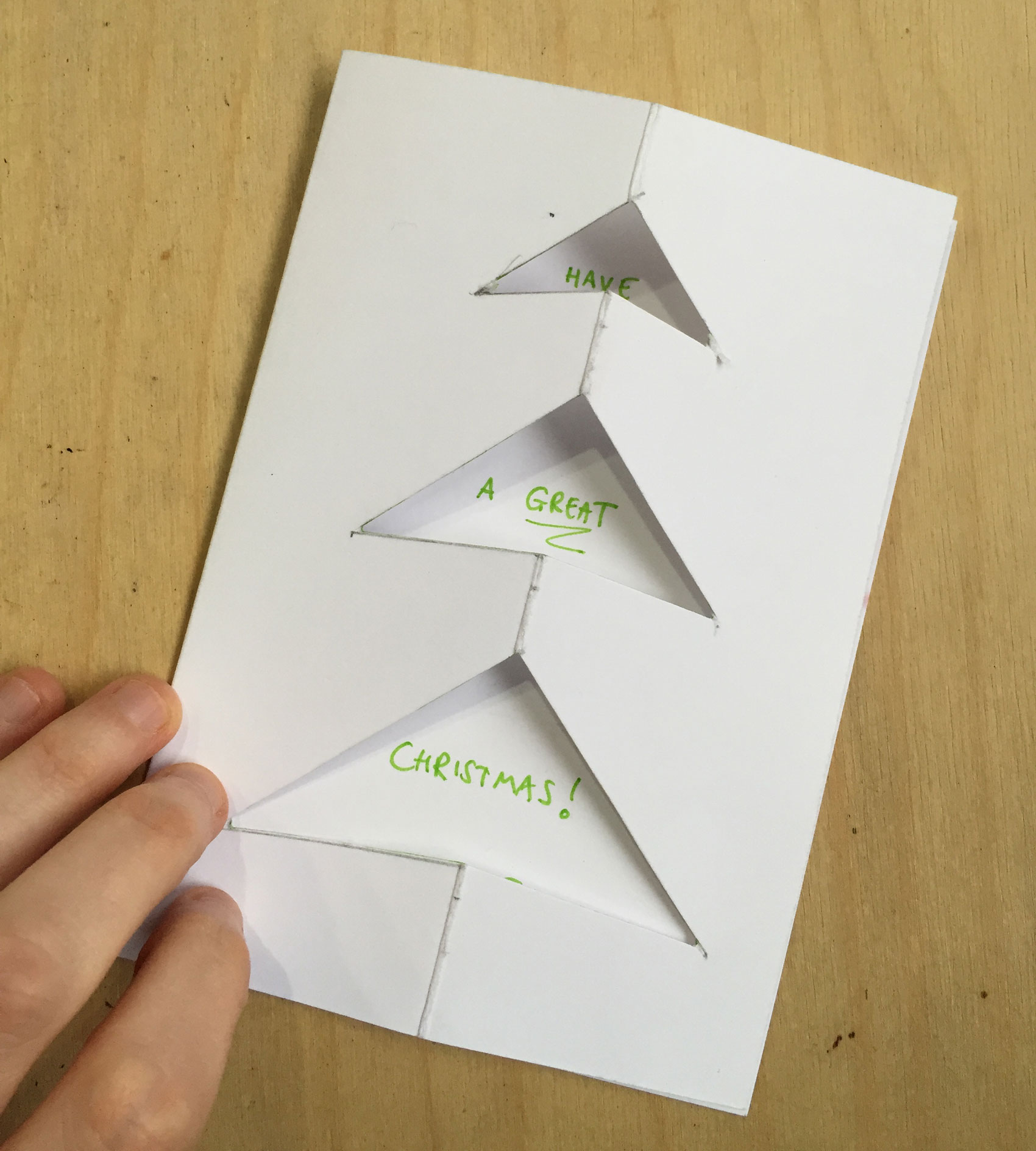 Rob came up with the idea of using the cut-out triangle to create a Christmas tree design (check out his "lo-fi mockup"), which reveals a little festive note with a hidden message inside. We got the cards printed professionally with a matt lamination, and they came back from the printers looking absolutely beautiful. 
The only flaw in our plan was that we decided to hand-cut the triangles ourselves. Which sounded like a simple task, but is in fact trickier than it looks (with apologies to anybody who received a wonky tree on their card)! These cards have literally been made with blood, sweat and tears... how festive.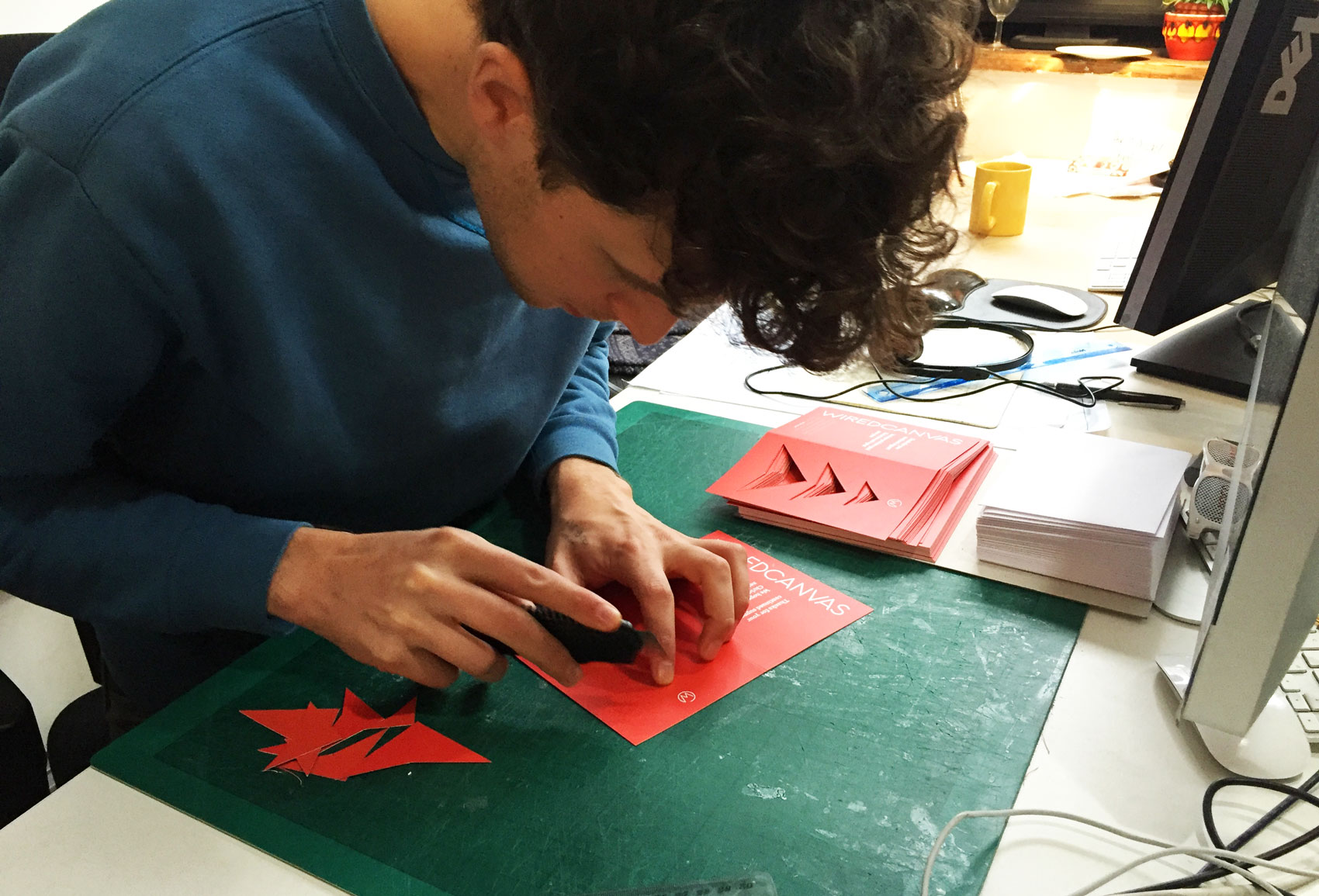 But the effort was worth it - and we hope you'll agree.
The front of the card has a cut-out christmas tree, revealing the words "have a great christmas"...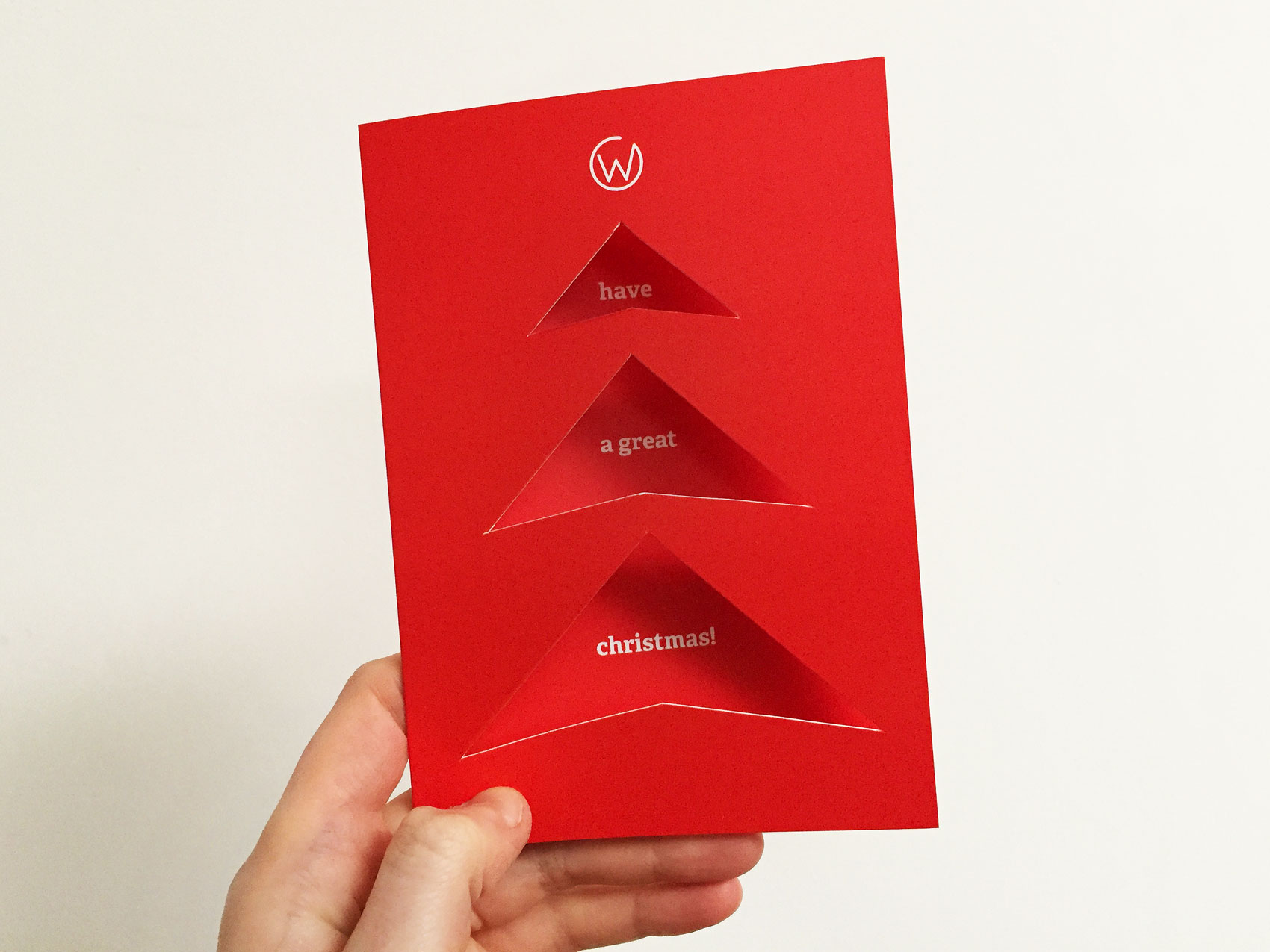 ...but when you open it up, you will see that it actually reads "We have launched a great new website, just in time for christmas! Check it out at wiredcanvas.com" (See what we did there?)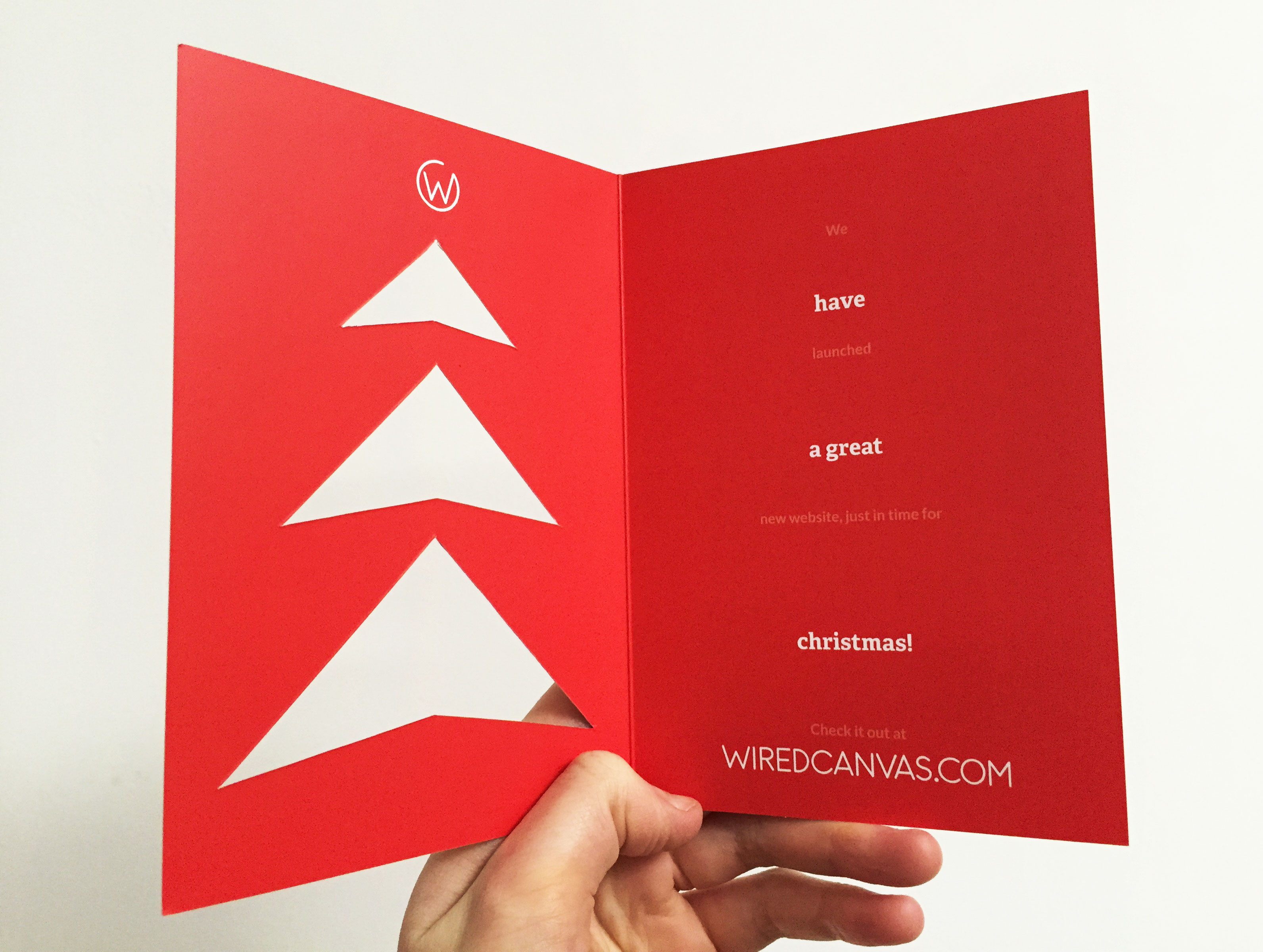 On the back is room for us to sign the cards to all our favourite people, and a little festive message. This year we decided to make a donation to the amazing charity Shelter, who help millions of people every year struggling with bad housing or homelessness. Please consider making a donation yourself, as your donation could mean the difference between a hostel and a home for a family this Christmas.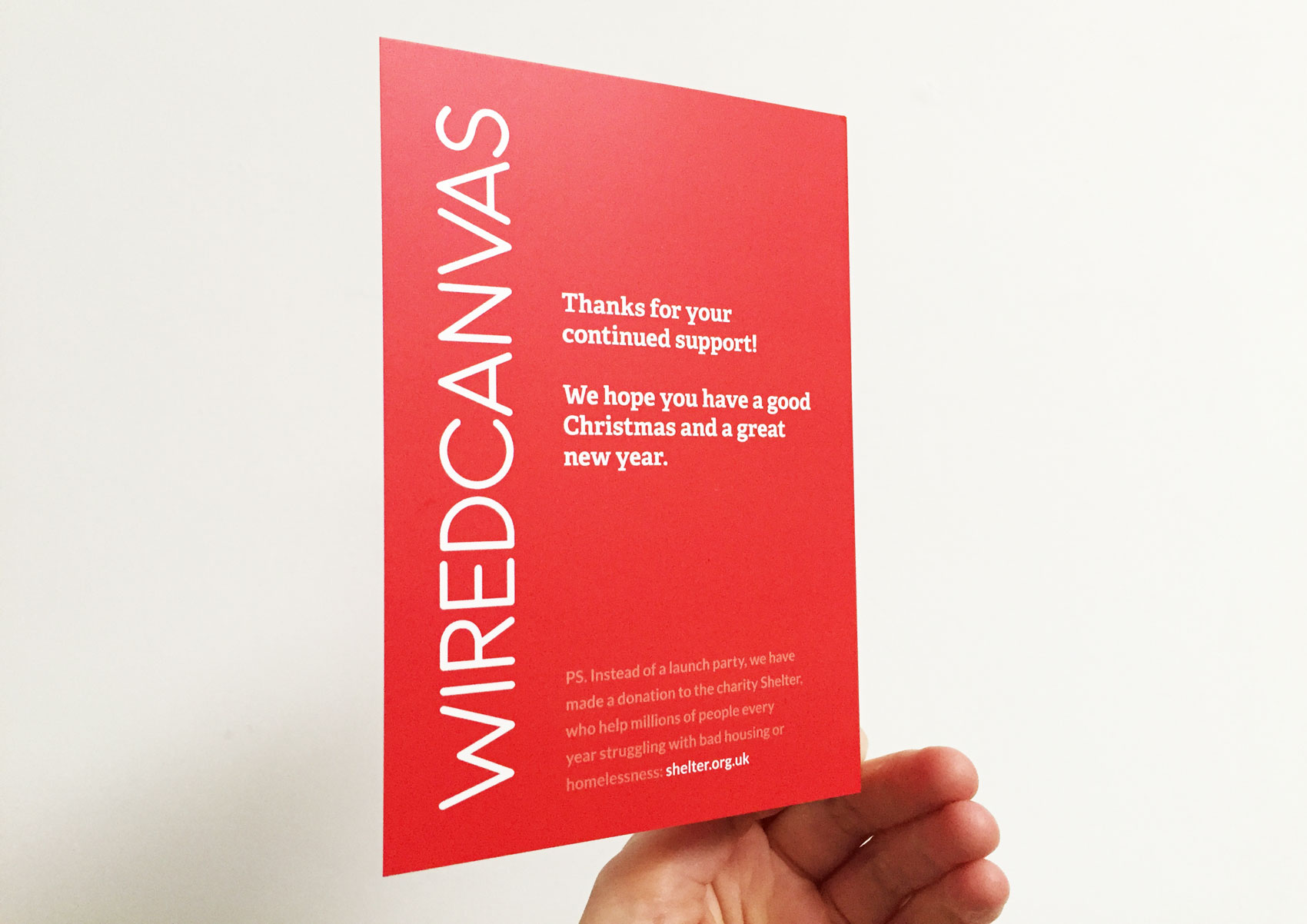 We hope you like them! If you think you should have received one of these limited edition Wired Canvas 2015 Christmas cards in the post, click here to contact us and let us know! We would love to send you one.*
*Any wonky Christmas trees that we cut from here on in are the result of mulled wine consumption, and do not reflect our usual impeccable quality control.
We hope you all have a very good christmas and a great new year!