Social Media & Marketing
22nd November 2012 by Rob Foddering
We invited ace journalist Amy Oliver to come and interview us about how arts organisations could use social media. This week we discuss Storify…
Rob: What is Storify? And is that even English?
Alice: It is, although as a word it's a bit obsolete. It means to 'form or tell stories'. Storify is also a brilliant, brilliant web-based tool which enables you to build a story from social media that's relevant to your brand or organisation. You then share that 'story' on your website, blog, Twitter or Facebook page. Best of all it's completely free to use.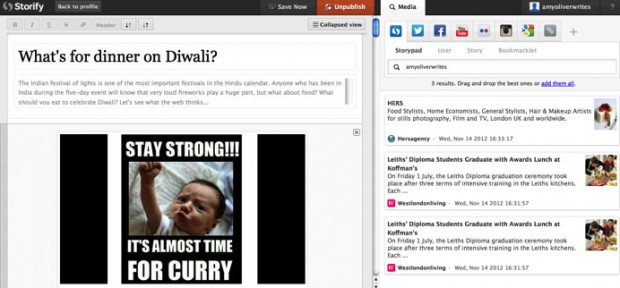 Rob: Hmmm. I already do Facebook and Twitter. Do I really need to use Storify as well?
Alice: Yes! It's another great way to engage and build relationships with your audience. Storify for arts organisations is also handy for measuring the depth of engagement on a particular event or exhibition. For example, the Museum of London recently built a Storify story on their Doctors, Dissection and Resurrection Men exhibition. They used people's tweets, pictures, Facebook posts and video to curate a story. Have a look.
Rob: Nice. It sounds like Storify would be useful for funding applications too.
Alice: It is indeed. When it comes to events and exhibitions, a lot of funders require more than just a bums-on-seats count. Storify is an excellent way of proving the value of your event. It's also good for documenting opening nights, open studio events, gigs, touring theatre productions and erm, world record attempts for robot dancing.
Rob: My costume was great wasn't it? Can you use Storify for anything else?
Alice: Yep, you can Storify a piece of breaking news. This enables you to act as a commentator on the situation and helps to drive traffic to your website. For example, when the Arts Council announced its recent cuts, the Twittersphere went a bit crazy. There were far too many tweets to look through. With Storify you could curate the best ones, add some thoughtful copy and then share it with your followers.
Rob: OK, I'm interested. How does it work? Do you have to know HTML?
Alice: No, Storify does it all for you. Plug in a keyword and Storify will search 17 social networking sites, including Facebook, Twitter, Instagram and YouTube for posts relating to that topic.
Rob: So I've punched in biscuits – (I like biscuits) – what do I do with all the posts, tweets etc that are coming up?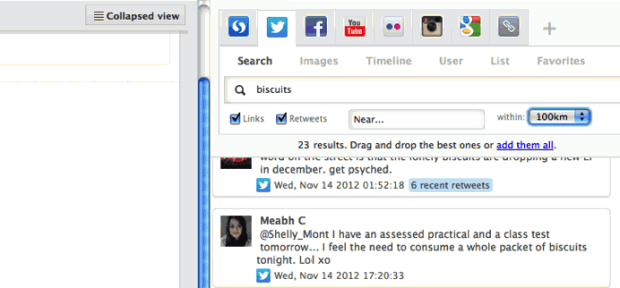 Alice: You drag all the bits you want into the easy-to-use editor, add a few paragraphs of text and hey presto! You've got a snazzy, curated story to share.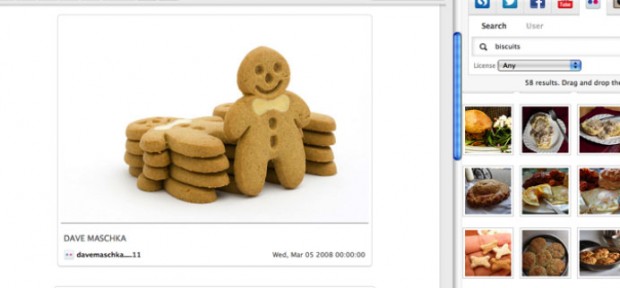 Rob: What about copyright? I don't want to be taken to court.
Alice: Storify have thought about that. Here's what they say: 'The content we display has been made public by the original creators. We also maintain links to original sources to make sure they always receive attribution for their work. And we even help you notify the content creators that they are now part of your story. You own the content you create with Storify, so it's ultimately your responsibility to make sure that you have appropriate licenses for any work depending on your use.'
Rob: You can notify the content creators?
Alice: Yes, when you publish your story, you'll be asked if you want to notify the authors to say you've used their tweets or Facebook posts, videos etc.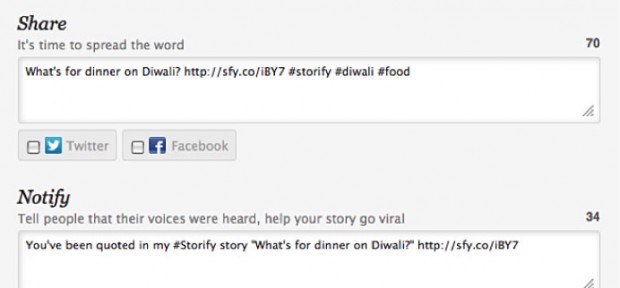 Tick yes. Those people are likely to share your story with their contacts. Then those people will share it with their contacts etc.
Rob: So, can you put a Storify story on your blog or website? I bet it's just for WordPress.
Alice: Actually, you can place your stories on any site that lets you embed HTML by copying and pasting the handy code Storify creates for you. It's a bit like embedding a YouTube video into your site. If you do use WordPress, the WordPress Storify plugin enables you to create your stories through the dashboard and then embed them.
Here's an example.
Rob: Cool. Are there any other plugins we should know about?
Alice: Storify also has a 'bookmarklet' button which enables you to grab websites and web pages you like for your story. All you do is place the button on your browser's toolbar. When you come across a web page you like, hit the 'Storify This' button and it will save the page to your Storypad for later.
Rob: A bit like the 'Pin It' button on Pinterest then? Is your Storify story around forever? What happens if someone deletes the content you've used?
Alice: If it's a tweet, Storify will keep a copy on their site so it will never be removed from your story. Storify simply link to the source of pictures and videos, so if the original author removes one of those, it will just not appear. That's the case for any embedded content.
Rob: Storify does sound like a good little tool. Shall we recap in handy bullet point form?
Alice: Let's:
Storify searches for content on 17 different social media sites, including Facebook, YouTube, Twitter and Instagram. It will also search Google for relevant information on websites.
You can curate tweets, photographs, video, Facebook posts, websites and many more into one story. You can also add your own words to explain what you have chosen.
Storify stories are useful for documenting events, exhibitions, gigs, touring theatre productions and breaking news events relevant to your organisation. They're also a new way to prove the value of said events for funders.
When you publish your story, Storify will notify all of the authors whose content you have used. They are then likely to share your story with their contacts, building your audience reach.
Stories can be embedded on most websites and blogs that let you embed HTML code. There's also a plugin for WordPress that enables you to create stories through the dashboard.
It's easy to use and totally free.