Social Media & Marketing
29th November 2012 by Alice Ralph
Last week we looked at how Arts Marketers can take advantage of the awesome social media tool Storify to market their arts organisations. This week freelance journalist Amy Oliver caught up with us to have a chat about Instagram – another great social media platform that you may have already heard of – and how it can be used as a brilliant arts marketing tool.
Alice: Isn't Instagram just an app that makes your photos look like they were developed in the 70s?
Rob: Sigh. In its basic form Instagram is just that; an app that enables you to create 'antique-looking' pictures by applying up to 18 filters. But it also offers a world of photo sharing ability that arts organisations, especially galleries, should be taking advantage of it.
Alice: Oh really? Like what?
Rob: Instagram is a social network in itself with 100 million users. You can 'follow' people's picture feeds and also search for keywords via hashtags as you would on Twitter. Your Instagram feed could be another – free – way of promoting your artists, exhibitions or your company itself.
Alice: Do you have to be signed up to Instagram to see all these photographs?
Rob: It used to be that you could only see and communicate with other Instagramers on your iPhone. But they've just given each user a snazzy web page where photos are displayed in one place. Here's erm, Justin Bieber's page: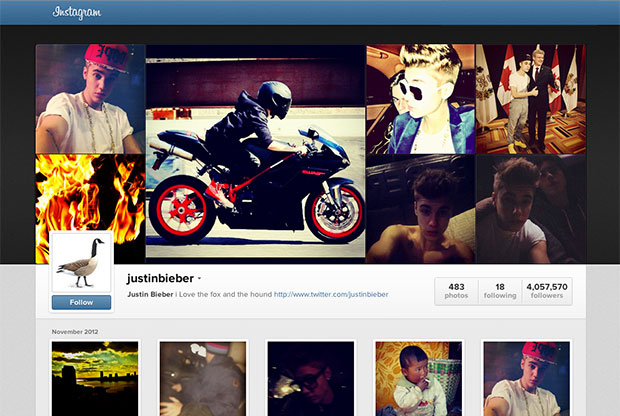 But it's not just for man-child pop stars; it's also pretty good for artists and photographers too. You can also add a 150-character biography and link back to your website.
Alice:  Justin Bieber's Instagram seems to be filled with pictures of his face. Is that wise? What should you post pictures of?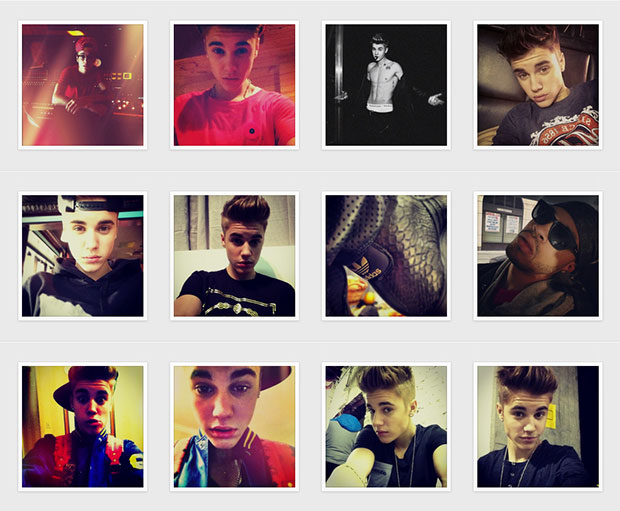 Rob: You've got to please the fans Alice, but perhaps J Bieber isn't such a great example of what to put on Instagram. The New York filmographer Casey Neistat agrees. He made a rather funny video called Instagram: You're Doing it Wrong to teach people that content on Instagram should tell a story. 'Find your theme and share it,' says Casey. See what you think.
Alice: So what should arts organisations post on their Instagram feeds and how often?
Rob: Seeing the inner workings of a gallery makes me feel like I know them a bit better, so documenting what's happening behind the scenes would make a good Instagram theme. Admittedly, they're a bit of a different art form, but Victoria's Secret do this really well. Here's some arts organisations who are already using it to great effect:
Brooklyn Museum currently have over 36,000 followers on Instagram and update it at least a couple of times a week with snaps of exhibitions being installed, events/talks, deliveries and artworks in progress. Expect to see lots of pictures of technicians brandishing drills!
The MoMA have nearly 97,000 followers on Instagram (yes, you read that right!) and mostly use it to share images of pieces in their collection or in their exhibitions, and occasionally opening nights.
Storefront for Art and Architecture have a more informal approach and use Instagram to document the 'behind the scenes' of their organisation – more like a staff blog of sorts. Looks like they have a lot of fun!
You can take pictures of anything, but there's nothing worse than trawling through a person's feed and seeing boring photos – unless you're a Justin Bieber fan.
Alice: You mean a 'Belieber'. OK, how does it work?
Rob: Download the free app onto your smart phone and start taking pictures. All pictures will be stored on your feed. You can email and share them across five social media sites, including Twitter, Facebook and Tumblr. People can like and comment on your pictures and share them to Twitter.
Alice: Sounds simple enough. Anything else we should know about?
Rob: Oh yes. There's also a really handy tool called Statigram, which can analyse and provide statistics for your Instagram activity; promote your account away from Instagram; and provide a user-friendly platform.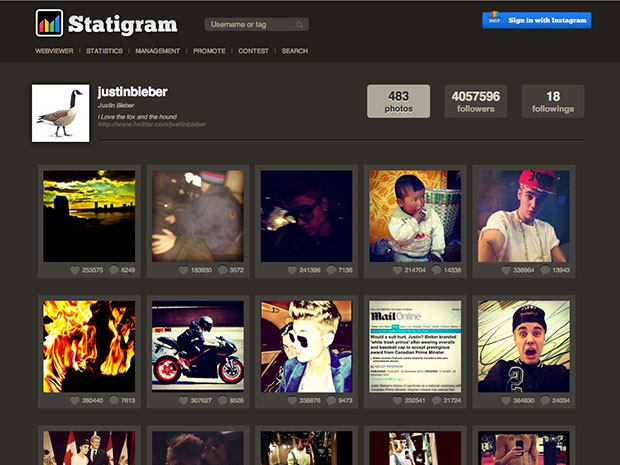 It's also free to use unless you want to run competitions.
Alice: Competitions? How do they work?
Rob: Statigram can host a photography competition, but this does cost money. A standard Statigram package starts at €420 (£337) and includes:
Up to two weeks duration
One hashtag
Open to whichever country you fancy
It also include a public page, presenting:
Your brand (logo, link to your website and presence on social networks)
Participating photos with ordering options (date, likes, comments) and three visualisation mode (grid, list or slideshow)
Listing in Statigram's Contest directory
Alert «new contest» on the contest tab
Contest sharing tools on Facebook, Twitter, Tumblr and Pinterest
Activity stats: number of participating photos, participating users and page
Tool to select winners and attribute prizes
Results published on your public page
Alice: In the grand scheme of marketing budgets, that's not too much I suppose. Has it worked well for anyone?
Rob: The Barbican in London ran a pretty cool competition hosted on Statigram for their 30th birthday. They asked Instagramers to submit photographs of the Barbican Estate with the hashtag Barbican30. Here's the Terms & Conditions document for reference.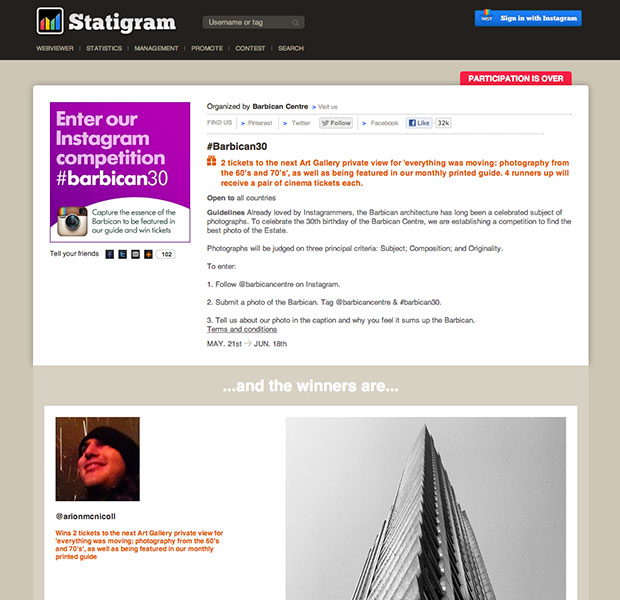 The competition ran for 28 days and the Barbican received 354 'legitimate' photo entries. 112 people took part and the competition attracted 27,002 page views. Visitors to the Barbican's competition page were referred to the following places:
Website: 67 referrals
Instagram: 33 referrals
Facebook: 18 referrals
Twitter: 10 referrals
Pinterest: 28 referrals
91 shares to social networks
164 likes on Facebook across all Instagram-related posts
(Thanks to The Barbican for supplying these stats).
Afterwards, the Barbican put together an Exquisite Tweets story of some of the best comments from the competition – ahem, notice Wired Canvas's entry. The winning photographs were also profiled in their September guide and used to promote the launch of their Everything Was Moving: Photography from the 60s and 70s gallery exhibition.
Winners also received exhibition and cinema tickets, and all entrants agreed to allow their photos to be reproduced by the Barbican online and in magazines for free. So, apart from the Statigram fee and staff time, the competition was relatively cheap to run.
Alice: Sounds like it was worth doing.
Rob: If the Barbican Centre had hired a professional photographer it would have cost them around £300 for half a day. So in terms of cost, the competition was definitely worth doing. They have also engaged with their audience and no doubt attracted new fans for the future.
Alice: And finally… what about copyright?
Rob: Here's what Instagram say:
'Instagram does NOT claim ANY ownership rights in the text, files, images, photos, video, sounds, musical works, works of authorship, applications, or any other materials (collectively, "Content") that you post on or through the Instagram Services. By displaying or publishing ("posting") any Content on or through the Instagram Services, you hereby grant to Instagram a non-exclusive, fully paid and royalty-free, worldwide, limited license to use, modify, delete from, add to, publicly perform, publicly display, reproduce and translate such Content, including without limitation distributing part or all of the Site in any media formats through any media channels, except Content not shared publicly ("private") will not be distributed outside the Instagram Services.'
Alice: Shall we recap in handy bullet point form?
Rob: Let's…
Instagram is an app (iPhone and Android) that enables you to create 'antique-looking' pictures by applying up to 18 filters.
It's also a social network with over 100 million users.
You can 'follow' people's picture feeds and also search for keywords via hashtags as you would on Twitter.
Every Instagram user now has a web page that displays their photos in one place. You can also add a 150-character biography and website link.
Use Statigram to analyse Instagram activity, promote your feed and run competitions.
Instagram is totally free.
Are you an arts marketer using Instagram or Statigram? What are you best tips or advice for other arts organisations?