Social Media & Marketing
27th March 2012 by Alice Ralph
You must admit: Pinterest has been pretty hard to ignore over the last few months. In December last year it became the 10th largest social network in the world and at the beginning of this year became the first website ever to hit 10 million monthly visitors. All this – and it's still "invite only". These are impressive figures by anyone's standards, and it's easy to see why everybody is talking about it.
So how does Pinterest work?
Imagine Pinterest as a communal scrapbook of beautiful, funny, interesting or just plain weird images, all curated by its members. It's effectively a digital pinboard in which you can bookmark – or "pin" – images that you like or find online and organize them into your own "boards". The boards can be on any theme that you like; perhaps 'Places' or 'Art' or even something very specific like 'Green Tea'! Any images pinned from the web automatically create a link back to the original source, or if you upload your own images then you can add a link back to your site and drive more visitors to your website. Users can also "repin" interesting images that they like and pin them to their own boards; meaning that, with a bit of luck and some great images, your content could go viral.
It's easy to see how Pinterest could become a rather dangerous procrastination tool. All of those funny or inspiring photographs that you see shared on Twitter and Facebook, all collected in one place. But it could also be a powerful tool for your business. Here at Wired Canvas we work mostly with creative industries,ethical travel companies and independent businesses who are ideally suited for Pinterest, so we have put together this guide to how your company could use Pinterest as a business tool.
Use Pinterest to promote your products
A little known feature of Pinterest is the ability to add a price tag to your pins. The San Francisco Museum of Modern Art (SFMOMA) have created a board called 'MuseumStore' full of pins from their online shop, and Pinterest helpfully automatically adds a little price banner in the top corner of each image that has a price in the caption, whilst the image links through to the online store where users can purchase the product.
To add a price tag to your products, just type the price with a £ or $ sign before it, and Pinterest will automatically add the price tag.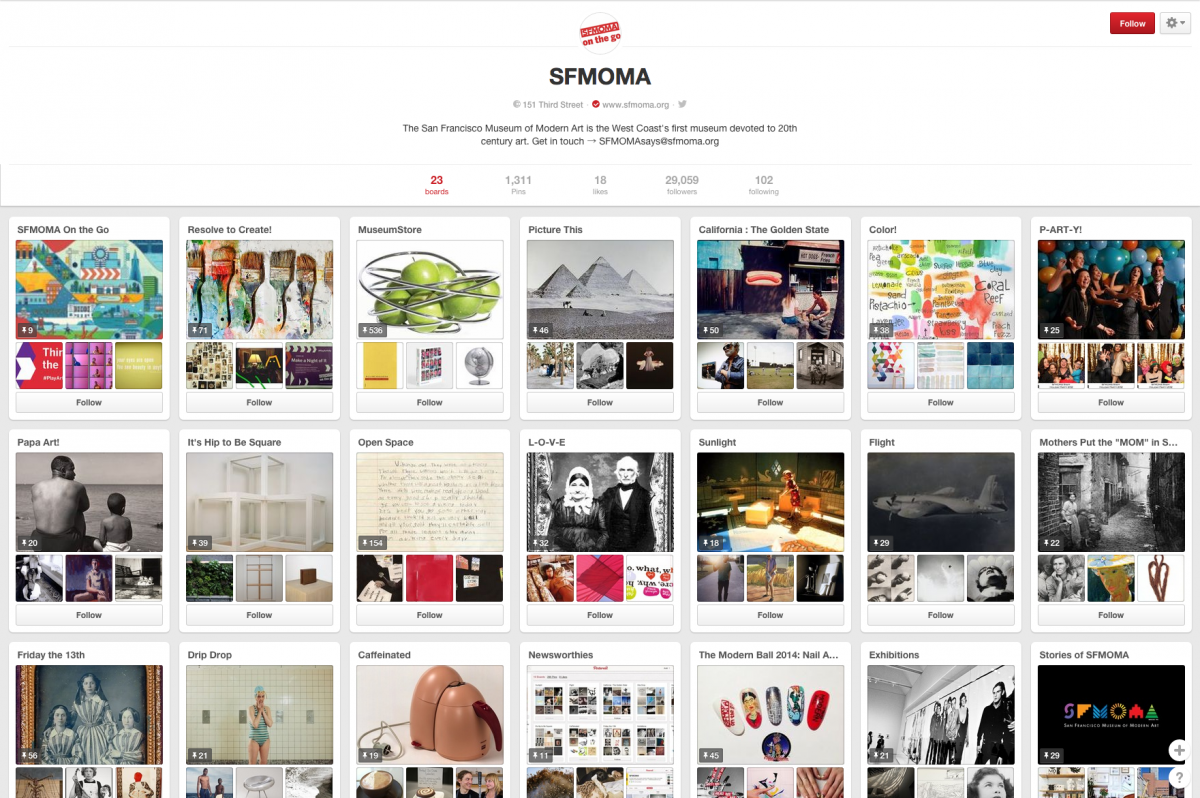 Use Pinterest to promote your exhibition, event or festival
Birmingham Museums and Art Gallery were one of the first museums in the UK to sign up for Pinterest, and have been using it as a way to both document their past exhibitions as well as promote upcoming exhibitions.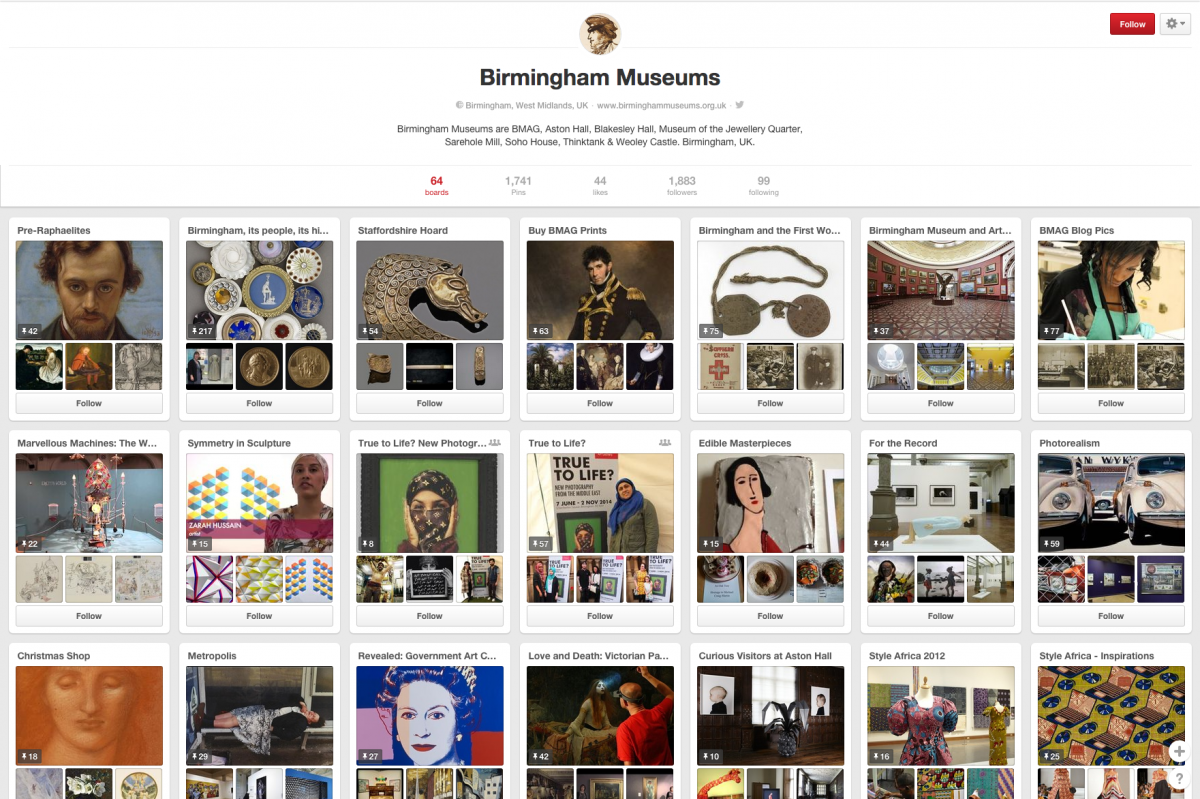 Promote upcoming events and exhibitions
Their major exhibition Children's Lives is running from March 24th to June 10th and they have been building a buzz around it by pinning selected pieces from the show in their dedicated board.
Document past events and exhibitions
They have also been documenting past exhibitions with dedicated boards, allowing their previous work to be easily shared and viewed online.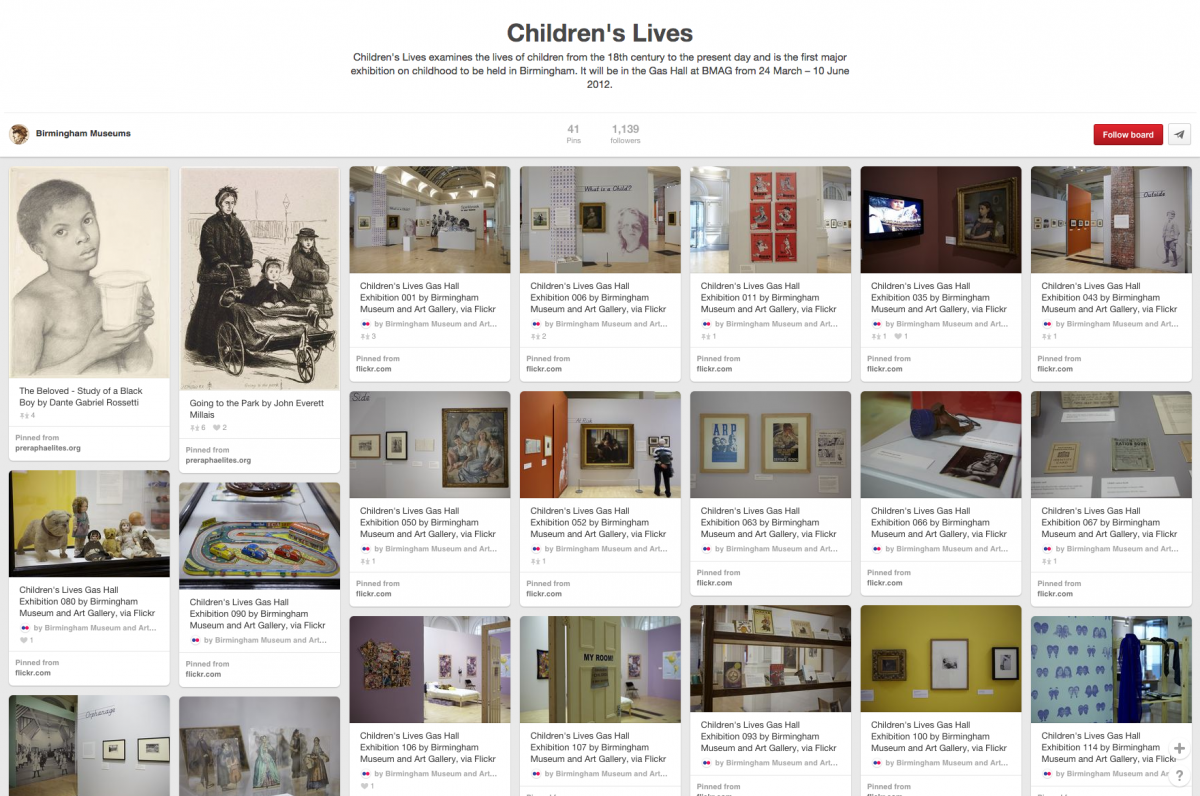 If you are an arts organisation or a charity with a big archive of images, this would be a great way to continue sharing your past work with a larger audience – although don't forget to add a link back to your own website so that it drives more visitors back to see your current work! To manually add a link to a pin that you've already uploaded, just click 'Edit pin' and add the URL:

Use Pinterest for Fundraising Ideas
If you are a charity who relies on donations, a 'Fundraising Ideas' board would be a great tool to inspire your supporters. There are so many simple crafty projects on Pinterest that link through to 'how to' guides, or recipes for cakes/biscuits that people could sell at fundraising events.
Sharon Black created this great board of fundraising ideas for Breast Cancer Awareness, full of different recipes for pink cake recipes, pink craft project how-to guides and other general fundraising ideas.
Why not start by searching for fundraising guides online (eg. how to organize a fundraising concert) and pin them on your fundraising boards with an inspiring image from your archives.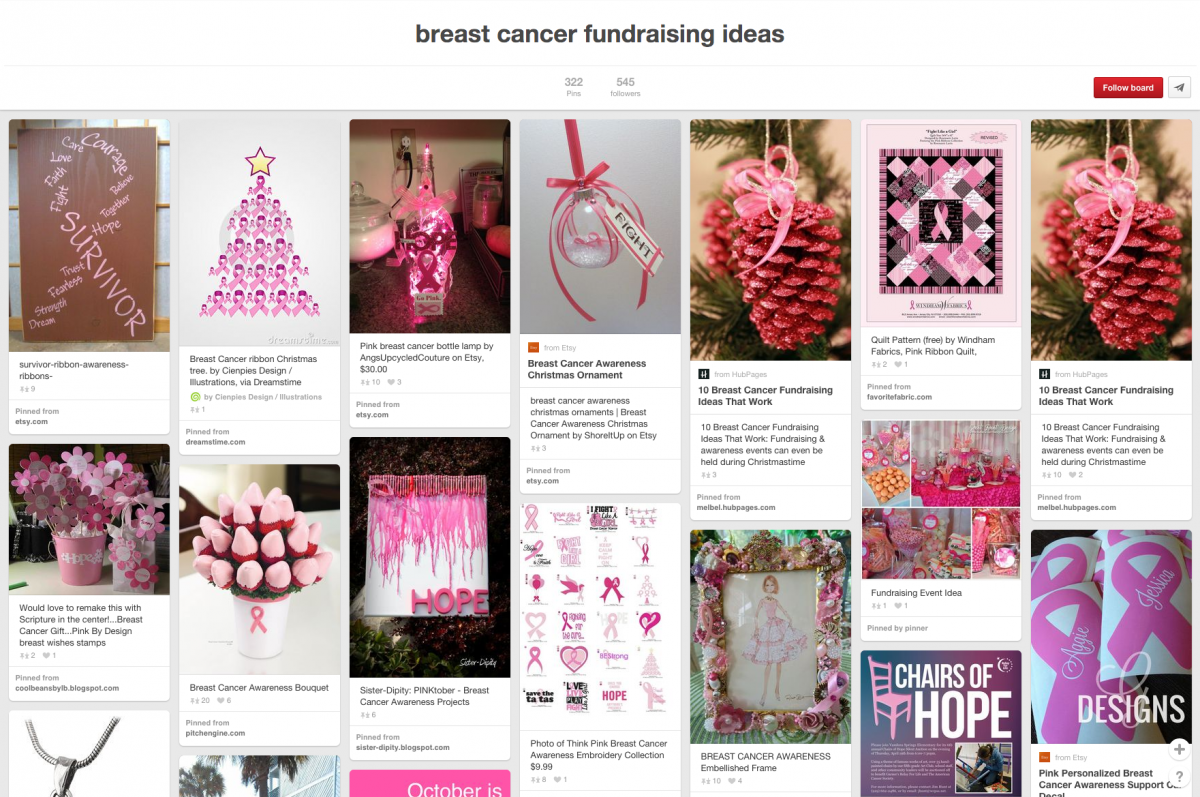 Use Pinterest to brainstorm ideas for design briefs
We are currently working with B-Side Multimedia Arts on the marketing materials for this summer's festival. We created a board called B-Side Pinspiration and uploaded some examples of existing B-Side graphics. You can invite other contributors to your boards via email, so we invited the B-Side staff and we all started pinning other examples of design that we liked. Eventually we had a large and eclectic mood-board, which has been a great way of gathering inspiration and ideas for this years designs.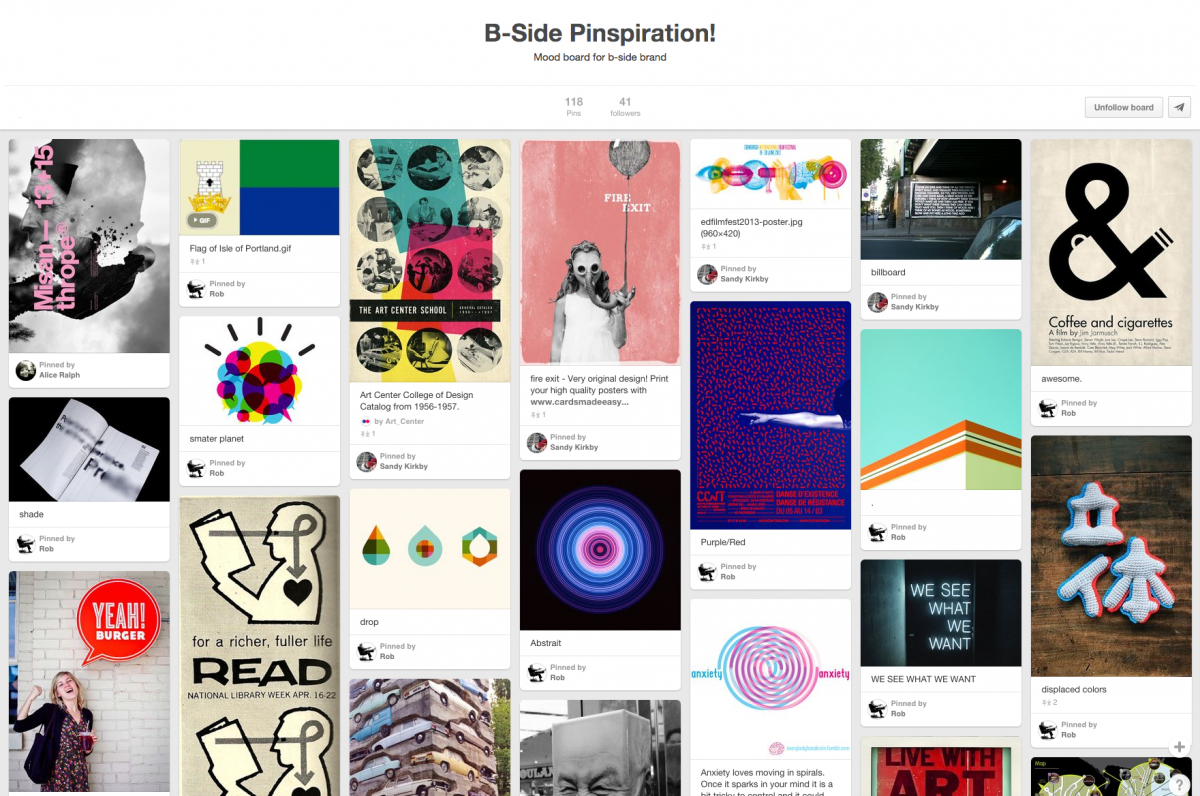 Image of the Day Pinterest Boards
charity:water are a non-profit organisation who use Pinterest to great effect. Their 'Photo of the Day' board now has nearly 2000 followers, and each image links back to their original blog posts – a fantastic way to engage new visitors with their blog.
The guys at charity:water have also cleverly included the story behind the image (with names of the people in the picture, wherever possible, which adds a very personal touch) in every photo caption – meaning that all those great photos that you have sitting on your hard-drive can now become miniature blog posts in themselves. It takes 30 seconds to post a pin, so if you prepared a folder of images and captions in advance it would not be a huge undertaking to update an 'image of the day' board over your morning coffee each day.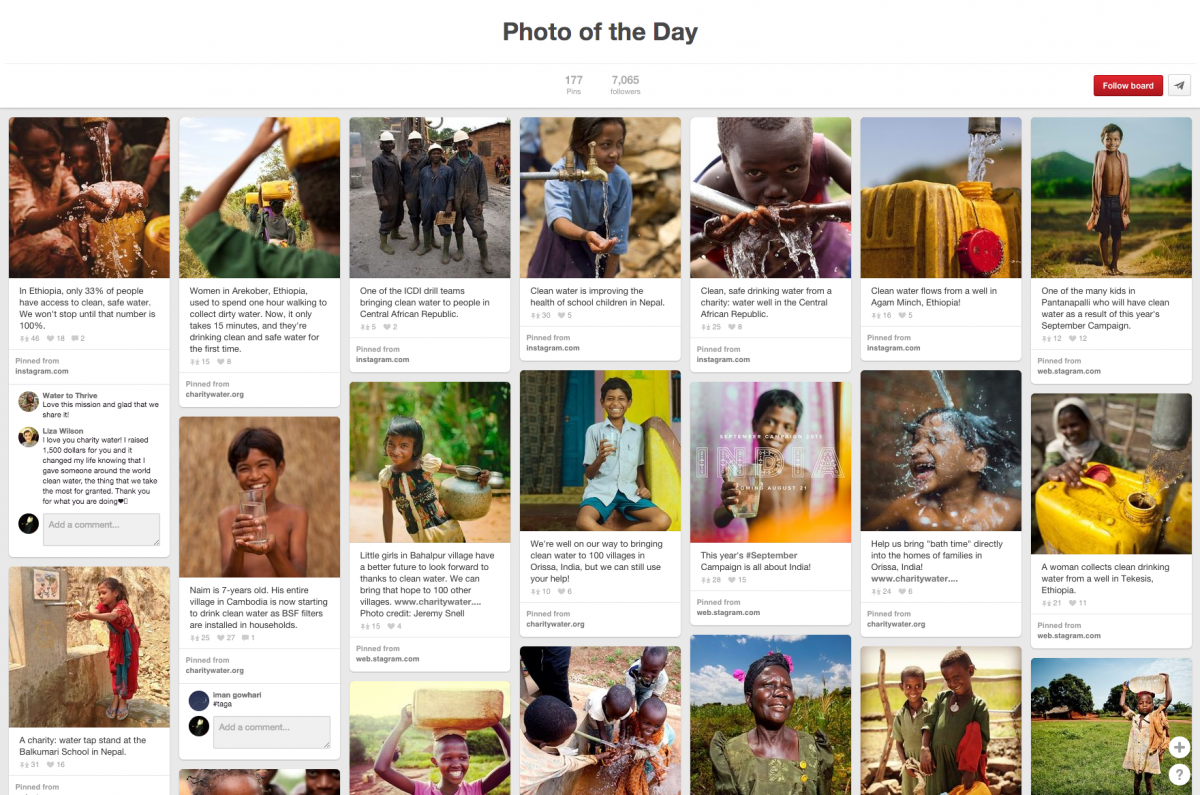 Is your website optimised for Pinterest?
Ask your web developer to add 'Pin This' buttons to your blog and website. Also, be sure to test that your website works with the Pinterest browser plugin, so you don't miss out on any opportunities for people to share your website with others.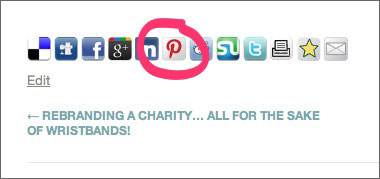 A word of warning!
Pinterest actively discourages people from using their service as a self-promotional tool. The whole point of it is to contribute to a global collection of inspiring and exciting images and content, so if you just use it to purely promote yourself then you may be excluded from Pinterest – and you probably wouldn't gain any followers anyway. Nobody likes spam; people will only follow you if you post engaging content.
To make the most of Pinterest, be sure to share the love and repin other people's pins that you think your audience would enjoy, leave comments on pins and follow people who share similar interests.
An important word of warning though: Pinterest does not take responsibility for any copyright infringement. If you pin an image then Pinterest assumes you have gained permission from the owner to upload that work and holds you accountable. Be careful that you don't create new pins of any artists or photographers work without permission first. Repinning existing pins seems to be an ongoing debate around the web currently, so do your research and plan your Pinterest strategy with this in mind.
Get Pinning!
Hopefully this guide will give you lots of ideas of how your arts organisation or charity business could use Pinterest to raise your profile online and increase your audience. If you want to know more, Jenni Fuchs has put together a useful guide for museums using Pinterest, and curates a regularly updated list of museums who already use Pinterest where you might find a few more ideas.