Web Design & Development
17th August 2016 by Alice Ralph
This blog is continuing our series around Charity Websites, identifying effective features and best practices. We've pulled together some of our favourite examples of homelessness and poverty charity websites, and why we think they work well.
We have divided this series into categories:
You can subscribe to our newsletter here to keep up to date with the series.
This latest blog is focussed on poverty and homelessness charities, who may have to balance the needs of people who are looking for immediate help with the visitors to the site that want to get involved either by donating, fundraising or volunteering. We found 5 excellent sites that struck the perfect balance between the two, and were able to highlight the work they were doing as well as providing excellent user experiences.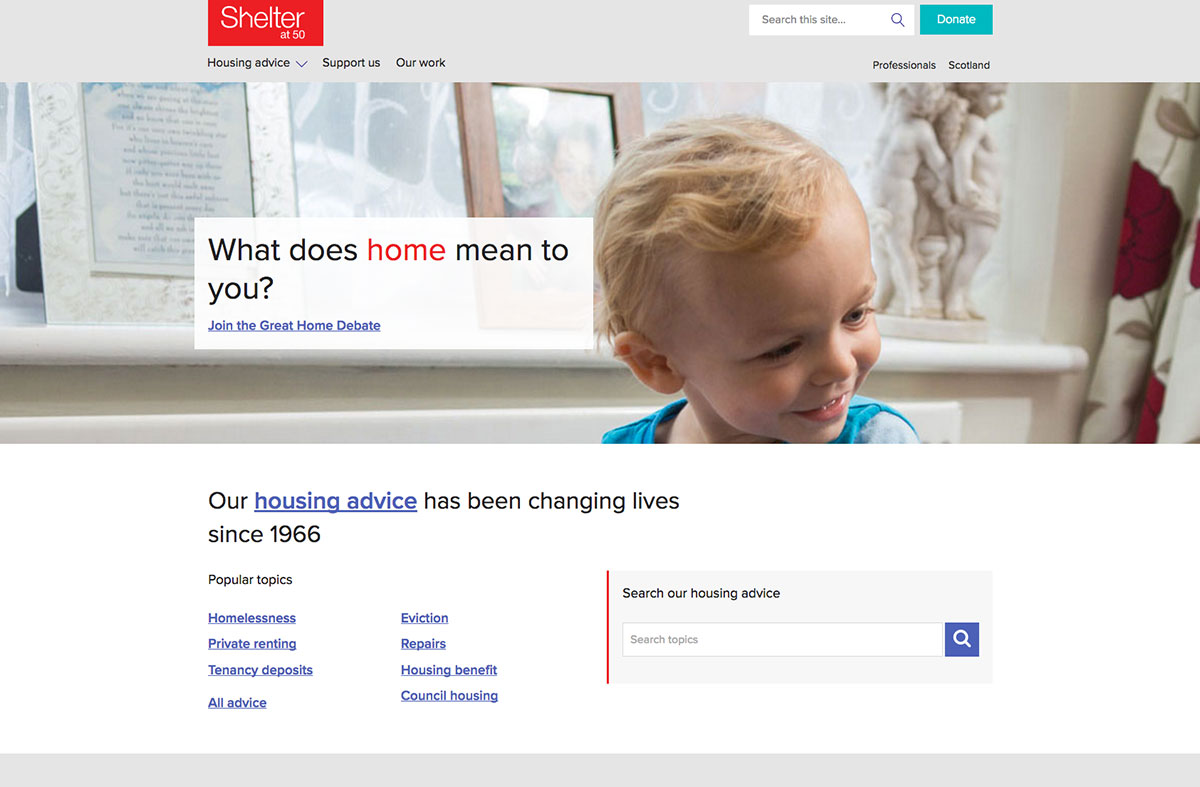 Shelter is a charity dedicated to preventing homelessness, by offering help and resources for where to stay and how to be rehoused. You can support their work here.
This is a nice example of a Beta site being rolled out in stages. Parts of the site are clearly using a new design, whilst other background areas still seem to be using the "old" design, but prompt you to provide feedback throughout with a simple questionnaire. It's a really nice way of involving your audience in the redesign of a new site, and to keep the gradual relaunch process as seamless as possible for visitors.
In terms of the "new" design; we love the use of very clear Gov.uk design principles and easy-to-read typography. The navigation is very clear with just three sections in the menu, and it's easy to quickly find what you want. The 'Popular Topics' feature is a nice solution for a site that needs to present a lot of complex information. It also adapts really well for mobile. We really like this site and can't wait to see the new design rolled out throughout!
Our favourite bits: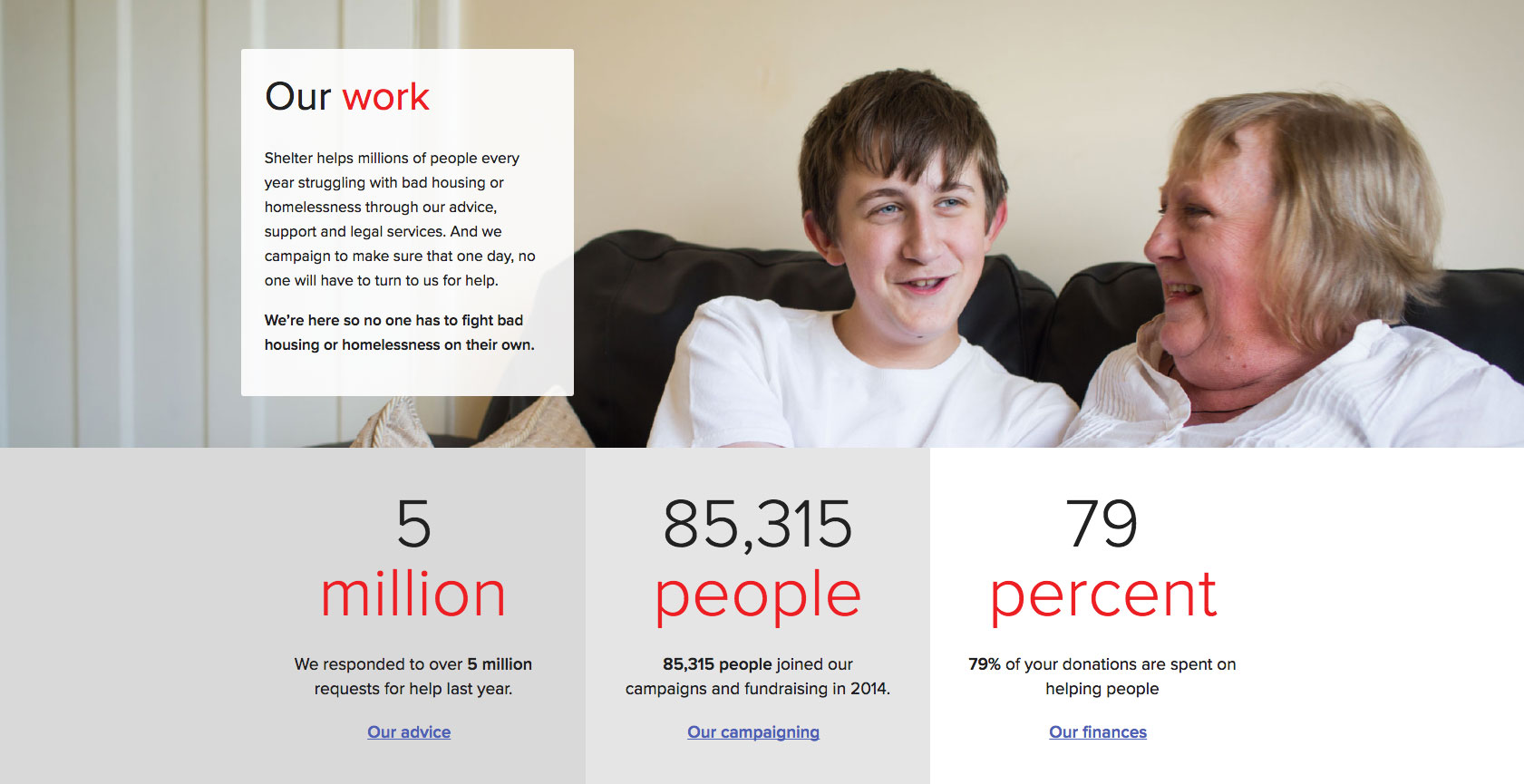 All in all, an extremely well designed and user-friendly website for an excellent charity!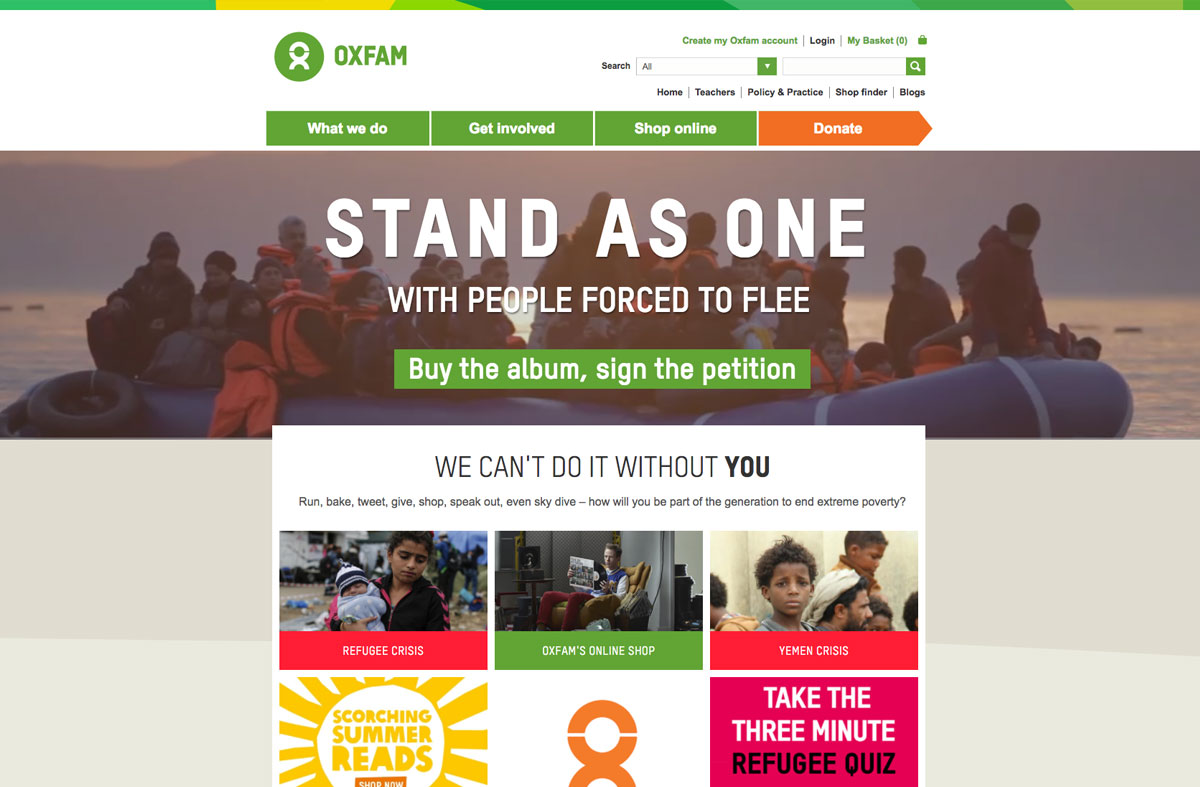 Oxfam is a global charity, fighting to end poverty in 90 different countries all over the world. You can support their work here.
Considering the huge variety of their work, the Oxfam website is just as vast as you might expect. Despite this, they have managed to maintain a surprisingly simple user experience. The Oxfam website is colourful, lively and engaging, and makes nice use of modern web technology on the homepage (video backgrounds and interactive filters). Oxfam have a wonderful brand designed by Wolff Olins, including a recognisable custom typeface that they use occasionally around the site as a custom web font. We'd love to see more of this around the site, because it works really well in the places where it is currently used.
We particularly like the leave a gift in your will section, which is a really nice example of a legacy giving page. It provides all of the information that potential legacy givers might require upfront, and very clearly.
Our favourite bits: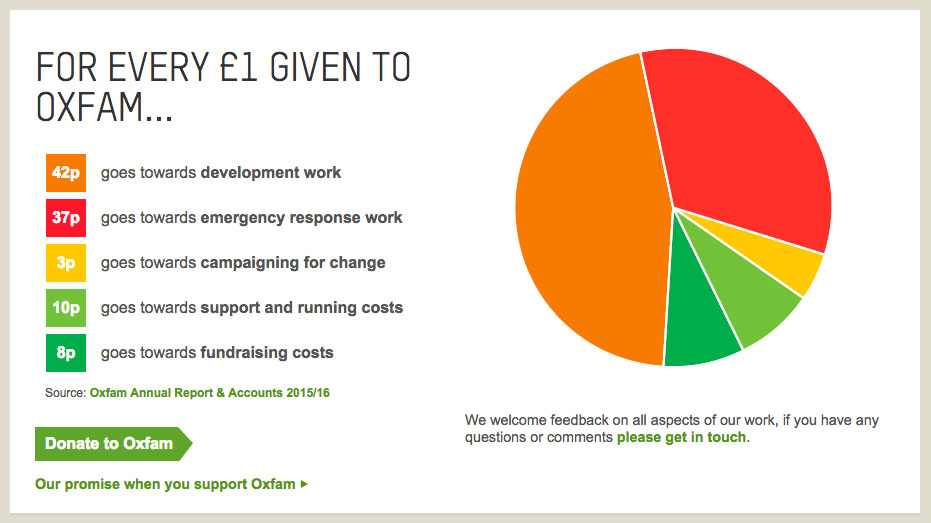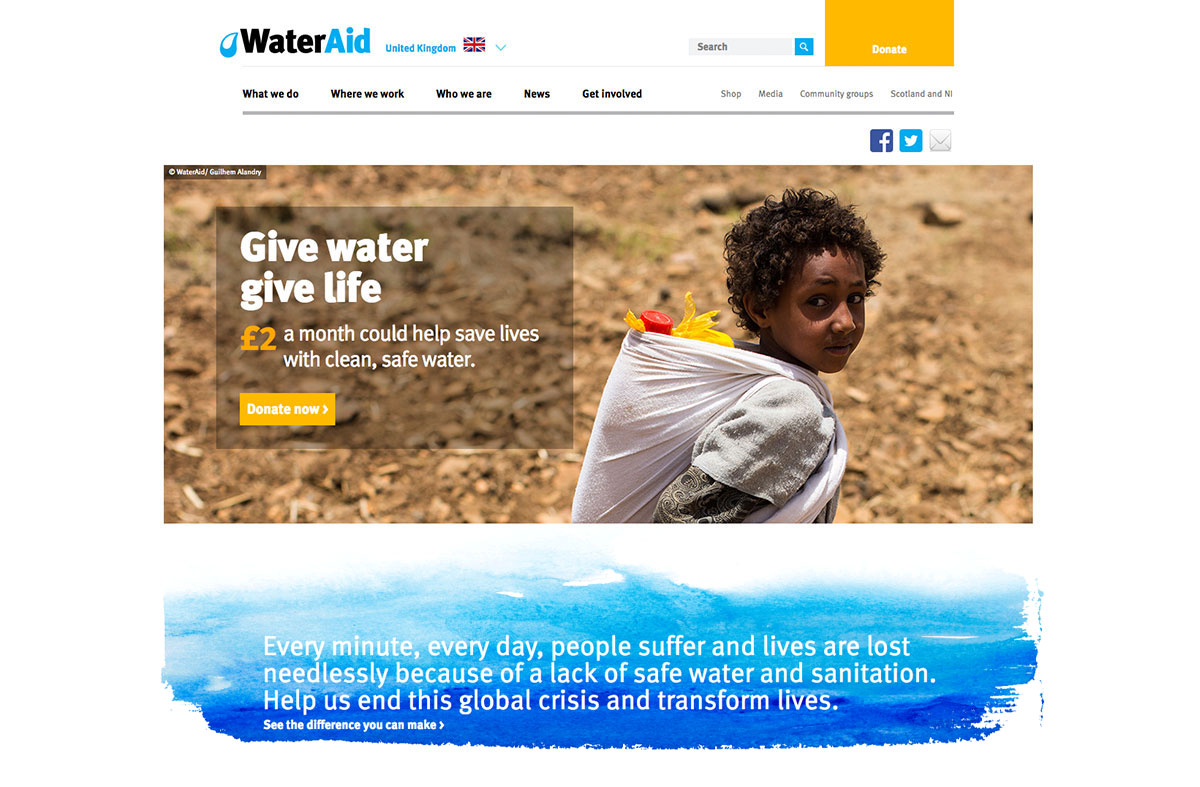 Wateraid work to provide clean water and sanitation in 37 countries in the world to prevent diseases and poverty caused by dirty water. You can support their work here.
The iconic WaterAid branding is applied throughout this site making it incredibly distinctive and unmistakeable. The light blue brand colour and font is unmistakably WaterAid. We particularly like the textural 'watercolour' blue splashes used around the site. They are applied sparingly but to great effect as they highlight the most important elements of the page.
Our favourite bits: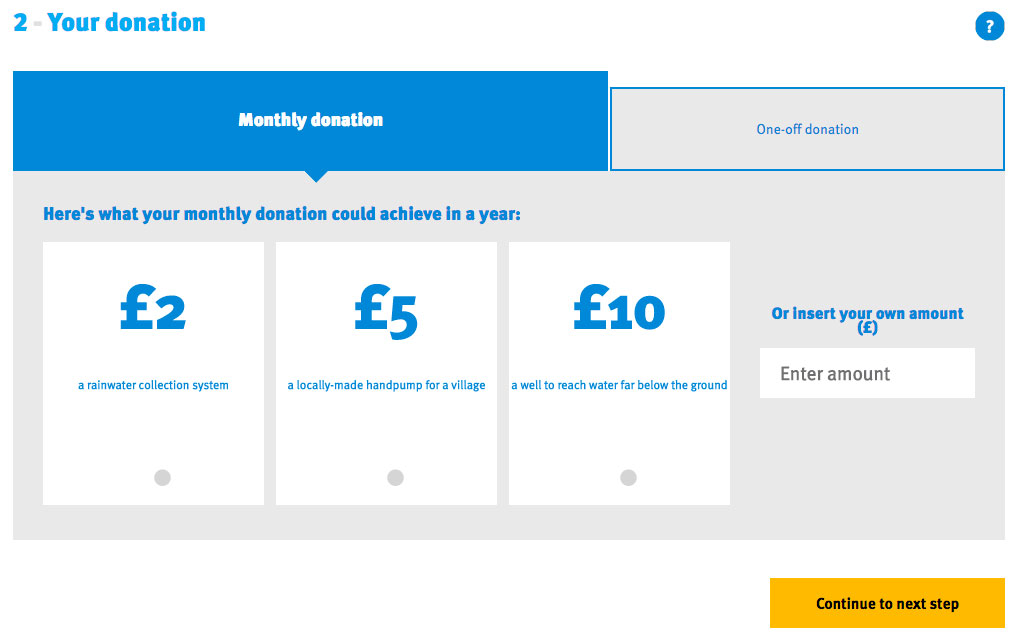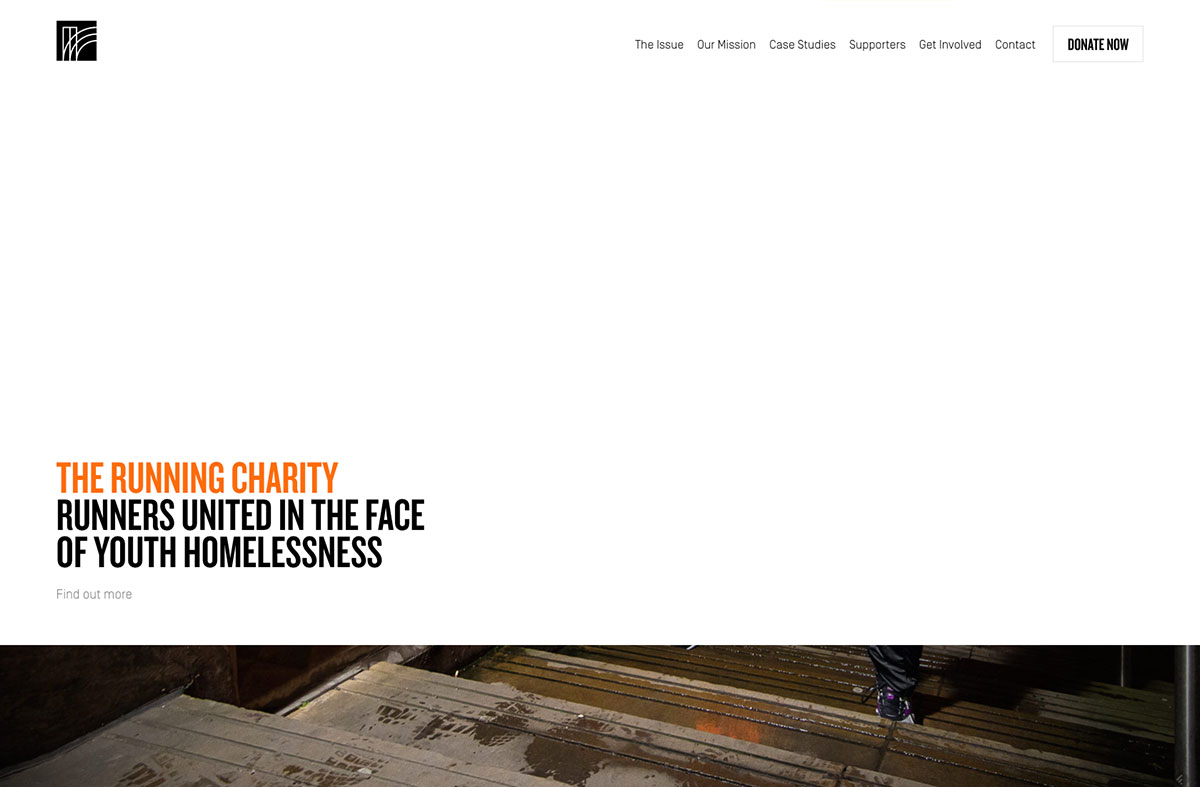 The Running Charity is the first running-orientated programme for homeless young people aged 16 to 24. They partner with existing homeless charities and provide a diverse training programme that improves physical and mental health, and provides homeless young people with opportunities for fundraising and employment. You can support their work here.
The Running Charity websites is quite different to the other charity websites that we have featured, but we have included it because we think it's a really wonderful example of a simpler 'alternative' approach. Unlike the other sites in our blog, The Running Charity uses a simple one-page website. The menu takes you to different points on the page rather than different pages, with the exception of the Blog (a standalone Wordpress site) and the Donate page (which takes you to their Virgin Money Giving page). Utilising secure 3rd party systems, such as Virgin Money Giving, is a great way to deliver more complex web functionality in a secure and cost-effective way.
By removing the complex requirements of donation and blogging, the Running Charity website is focussed purely on communicating the mission and goals of the charity. We feel that it does this very well, and goes to show that sometimes 'less is more'.
Our favourite bits: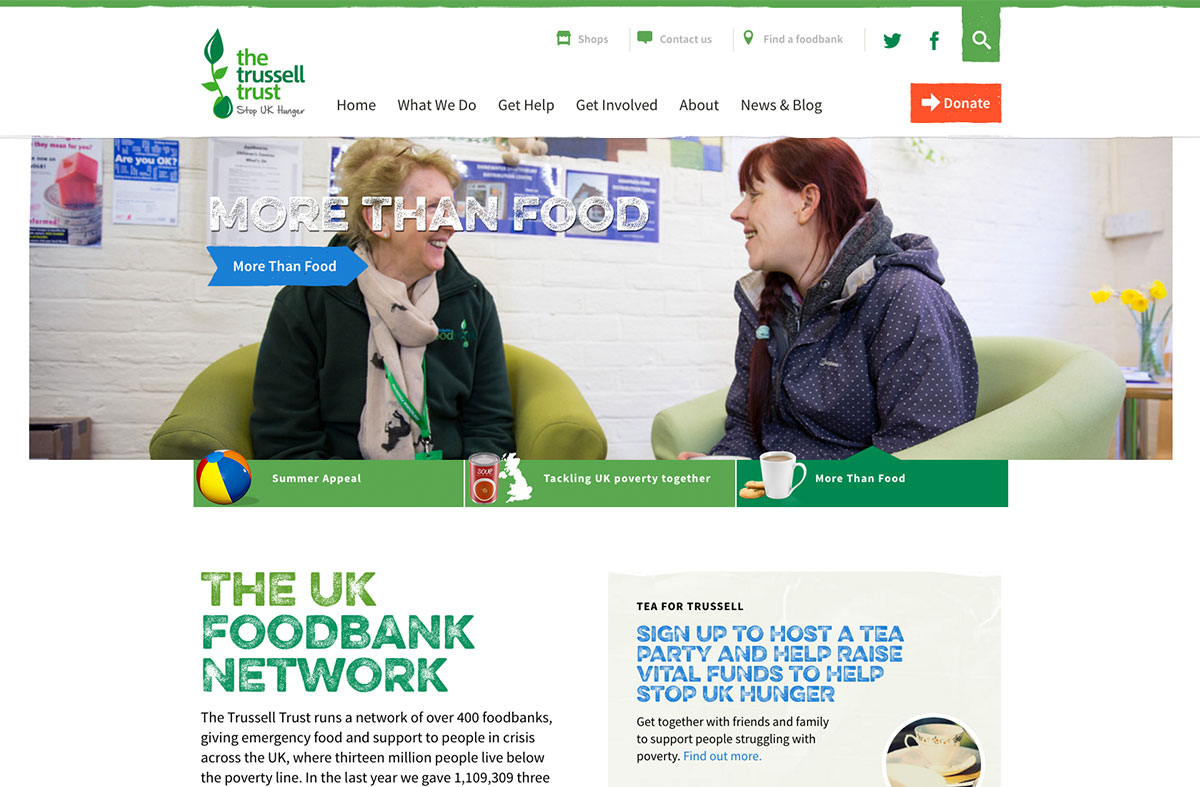 The Trussell Trust run Foodbanks in the UK, campaign to stop hunger, and also run overseas projects, in particular in Bulgaria where the charity was first founded. They are working towards breaking the cycle of poverty that causes hunger. You can support their work here.
The Trussell Trust site has a nice welcoming approach, with a real 'community' feel to it. There are small bits of brand application, but the content is still really clear and accessible.
The Trussell Trust are particularly good at 'telling the story' of their charity. Their website very clearly explains how foodbanks work, the impact that they have, and why they need to exist in the first place. By weaving personal stories, videos, photos and testimonials in amongst their 'facts and figures', they communicate their story really effectively and powerfully.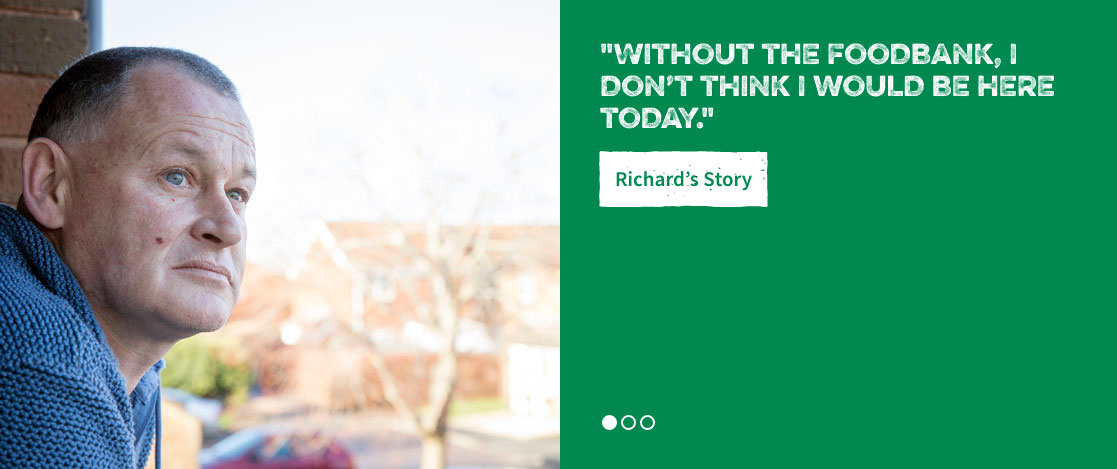 We particularly like the rustic webfont that they have chosen (Eveleth). The advancements in webfont technology, with webfont libraries such as MyFonts, Google Fonts and TypeKit, have made it easy for websites to now use a huge variety of typography online. This is incredibly exciting from a design perspective, and it's great to see a charity website being bold in their choice of typography.
Our favourite bits:
---
So that concludes part 5 of our series on charity web design. We focussed this time on charities working towards breaking cycles of poverty and homelessness. Here are some of the common features that we noticed that worked well:
In our next blog, we'll be covering some of our favourite human rights charity websites. Sign up to our newsletter, or social media here, and we'll let you know when it's live!